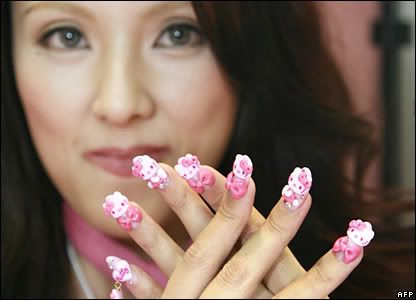 I so want this ladies nails!!! How freaking cute are these...I
love

hello kitty.
(wish I looked that hot while I cleaned)
Today was a very productive day for me or atleast
I felt like it was haha I did all the laundry and finished
cleaning so that way I dont
have to do it on Saturday which is our cleaning day. Then
a little after that I went to the studio where
my boyfriend works
(he's a photographer)
to hang out there for a bit.
We went to Best Buy and other stores
after that so we could look around at different
places at video camera prices.
After awhile of going to Best Buy, Wal-mart,
then Target we went back to
Best Buy to get one but then
I found a table that had open box
products that are
priced lower because they are opened.
So he got a Samsung video
camera that was reg. $299 and was lowered
to $139, not bad huh? thanks to me :)
We went to his parents house and I wanted
to swim so I got my swim suit on and
went to get in and um...
so much for that haha.
We headed back to my house because
my parents and uncle were grilling
fajitas, sausage and we also had beans and
I
guess i'm going to have to do my song of the day
and post it on here lol sooooo
Todays song of the day is
Paramore's
new single
Ignorance
for their upcoming album.
I love Paramore and the music they make.
I bought their last album Riot and fell in love
with them and love the fact
that the lead singer is a girl who
kicks major ass with her voice
...I always wanted to make a band sigh :(.
This would be awesome at the moment...
yum hazelnut iced coffee from McDonaldsssss